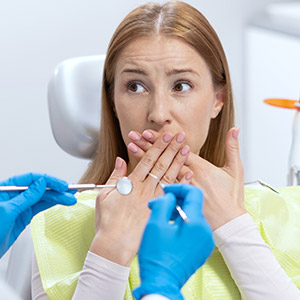 For most people, dental visits are as routine as a trip to the supermarket, but this is not the case for everyone. Some can become so overwhelmed, anxious, or nervous about seeing the dentist that they might put off their visit, even for a serious dental condition.
This kind of anxiety, often rooted in early childhood, shouldn't be dismissed or ignored. If it prevents you or someone you love from receiving needed dental care, it could disrupt your oral health—not to mention your overall well-being for years to come.
In recognition of Mental Health Awareness Month this May, here are 4 things you can do to prevent dental anxiety from robbing you of the dental care you or a loved one needs.
The right dentist. The partnership between dentist and patient may be the most important element in addressing dental anxiety. It's important to find a provider that accepts and understands your anxiety, and who won't dismiss it with trite aphorisms like, "Your fear is all in your head." Finding a dentist who listens and who will work with you in allaying your concerns is often the first step toward overcoming dental anxiety.
Facing anxiety. It's common for people to try to ignore their inner turmoil and focus instead on "getting their teeth fixed." But as sensible as that sounds, it's not really effective. It's better instead to acknowledge and be forthright about your feelings of nervousness and apprehension. With it out in the open, you and your dentist can then include managing your anxiety as a part of your overall treatment plan.
Sedation therapy. It often takes time to overcome deep-seated phobias like dental anxiety. In the meantime, though, your teeth and gums may still need care. Your dentist can help relieve your anxiety, albeit temporarily, using one or more sedation therapy techniques to help you relax during your visit. These therapies may include an oral sedative taken just before your appointment or gas or IV sedation that helps you relax completely during a treatment session.
Cognitive Behavioral Therapy. Psychotherapists have long used CBT to help patients overcome mental and emotional problems like depression, eating disorders, or phobias. CBT helps people change deep-seated patterns of thinking or behavior regarding a troublesome issue by confronting it and seeking to understand the "why" behind the patterns. Recently, a review of dental patients who underwent CBT for dental anxiety showed a number of positive results.
Overcoming dental anxiety can be a long journey requiring patience, courage, and understanding, but it can be done! With the techniques and methods dentists now have to address it, anxiety over dental treatment no longer need interfere with a person's ability to receive the dental care they need.
If you would like more information about dental anxiety and what to do about it, please contact us or schedule a consultation. To learn more, read the Dear Doctor magazine article "Overcoming Dental Fear & Anxiety."