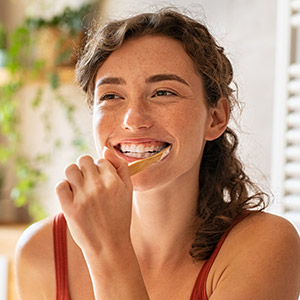 Although your dentist plays an important supporting role, you are actually the starring actor in your dental care. What you do daily at home makes the greatest impact on the dynamic state of your oral health.
The more you can become a "master" in your own dental care, the more likely your teeth and gums will remain healthy. It's also less likely you'll have much of a need to see the dentist beyond your regular cleanings and checkups.
Here, then, are 3 things you can do to improve personal teeth and gum care.
Improve your brushing. Brushing your teeth is primarily a physical skill. The more you do it, the better at it you'll likely become. And, the better you are, the more effective you'll be with removing disease-causing dental plaque. It begins with the right equipment: preferably a soft-bristled, multi-tufted toothbrush that feels comfortable in your hand. Technique-wise, focus on being thorough but gentle to avoid damaging your enamel and gums.
Floss daily. Although a lot of people think of brushing and flossing as two different tasks (with many doing the former while neglecting the latter), it's better to think of them as two parts of the same goal of removing dental plaque. While brushing clears away plaque from broad surfaces, flossing removes it from between teeth where a toothbrush can't reach. If flossing isn't your thing, try floss picks or water flossers.
Put the brakes on sugar. Of all the things you eat, refined sugar is probably the most detrimental to your dental health. The oral bacteria that cause disease readily consume any sugar lingering in the mouth, which fuels their growth. It's especially problematic when constant snacking on sweets (or drinking sweetened beverages) provides a continuous supply. So, cut back as much as possible on sweets, or limit your consumption of sugary foods to meal times.
As we said before, your dentist does have a role to play in your oral health, so be sure you're paying them a visit at least every six months. These visits plus your due diligence at home will help ensure your teeth and gums stay healthy.
If you would like more information on personal dental care, please contact us or schedule an appointment for a consultation. You can also learn more about this topic by reading the Dear Doctor magazine article "10 Tips For Daily Oral Care at Home."